Recent work by Kelly & Trent Berning
July 3 - August 30, 2008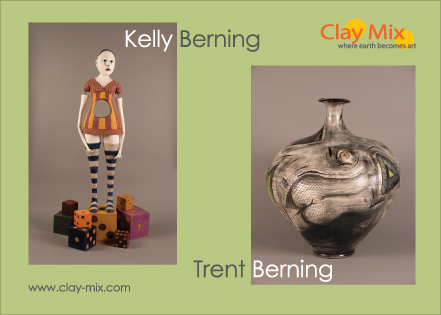 Clay Mix holds a contemporary ceramic exhibit by Kelly and Trent Berning of Fallbrook, California. The exhibition includes figurative sculptures by Kelly Berning and sculptural vessels by Trent Berning. The exhibit opens at 5pm on Thursday, July 3rd for Art Hop.
Kelly's "Carnival Series" is a study on carnival lifestyles. Her depictions of circus figures illustrate a unique and colorful lifestyle, yet the figures show almost no emotion. Trent's "Aspect Series" is a study of specific symbols suggesting elements of time. These symbols include blocks representing links to the past; circles and spheres used as metaphors for potential movement toward the future, and drawings, which signify past, present and future issues. Both artists will give a talk about their work on Saturday, August 2 at 3pm at Clay Mix. Attendance is free but reservations are required for this artist talk.
Kelly and Trent Berning met in graduate school at the University of Tennessee, Knoxville where they received their Masters of Fine Art in ceramics. Kelly Berning currently teaches ceramics in Mira Costa and Mount San Jacinto Colleges and Trent teaches at Mira Costa and Palomar College in southern California.