Feast or Famine
Works by Una Mjurka
Jan 6 - Feb 26, 2011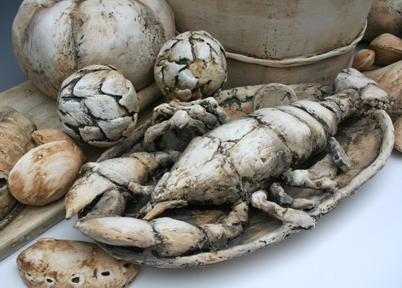 Una Mjurka, Reticent Feast (detail), ceramics.
Clay Mix is proud to present a solo exhibition by ceramic sculptor Una Mjurka from January 6 through February 26, 2011. The opening reception with the artist is at 5pm on Thursday, January 6th during ArtHop.

Una Mjurka grew up and received her formal art education in Latvia, formerly controlled by the USSR. She moved to the U.S. in 1994 and, as a reaction to what she was taught in her own country, she began exploring abstract ceramic pieces. Later, instead of reacting to cultural traditions, she began to incorporate realism back into her work. Mjurka has developed her own style that, at first glance, appears to be realistic still life but is more contemporary in the stylization of the details and her use of muted colors. The colors and surfaces of her still life sculptures create an emotional, visceral response in the viewer. This exhibit entitled "Feast or Famine" includes a large installation called "Reticent Feast" which consists of two large tables with a feast on one table and no food on the other.  Mjurka has been exploring the idea of food and human need. She states, "These days it [food] is no longer used just for sustenance. More and more often food serves as a substitute to compensate for the lack of satisfaction in the other areas of our psychological needs. We use food as a communication device, we gain a sense of security through it, we fill emotional voids with physical nutrients, and we obtain a sense of belonging through food. It has become a friend, a symbol, an identity or even an obsession. As a society, we have a very peculiar relationship with our daily bread."

Una Mjurka holds a Master of Fine Arts degree in Spatial Art from San Jose State University. She is Assistant Professor of ceramics at California State University, Fresno. There will be another reception to meet the artist and discuss her work on Saturday, January 29 from 2pm at the Clay Mix.