Fresno City College Ceramics, Fresno State Ceramics,
Merced College Ceramics, Reedley College Clay Club and Clay Mix present

Kevin Snipes    
Lecture and Demonstration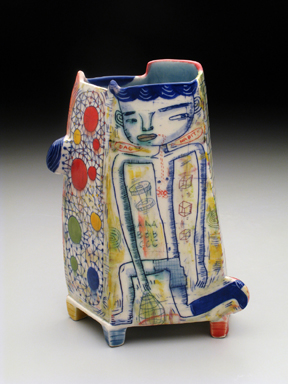 Kevin Snipes, "Dag Nabit"
Saturday, March 17, 2012
9am - 4pm 
at Clay Mix

Cost: 
$45 : Register before March 3rd
$60 : Register after March 3rd 
$45 : Clay Mix members and current students

Lunch included 
Kevin Snipes uses narrative, colorful imagery to create decorative surfaces on his non-traditional vessel forms. Kevin's vessels, whether wheel-thrown or hand-built, are adapted to his unique imagery. 
In this workshop, Kevin will demonstrate a variety of techniques he uses in his work. He will also discuss the development of his work and his artistic inspirations. 
Kevin Snipes received a Bachelor of Fine Arts in Ceramics from the Cleveland Institute of Art in Cleveland, Ohio. He took graduate studies in Ceramics at the University of Florida, School of Art and Art History in Gainesville, Florida.